Episode 30: Mastering Online & Virtual Meetings
What Gear to Buy, How to Set It Up, & How To Look Your Best Online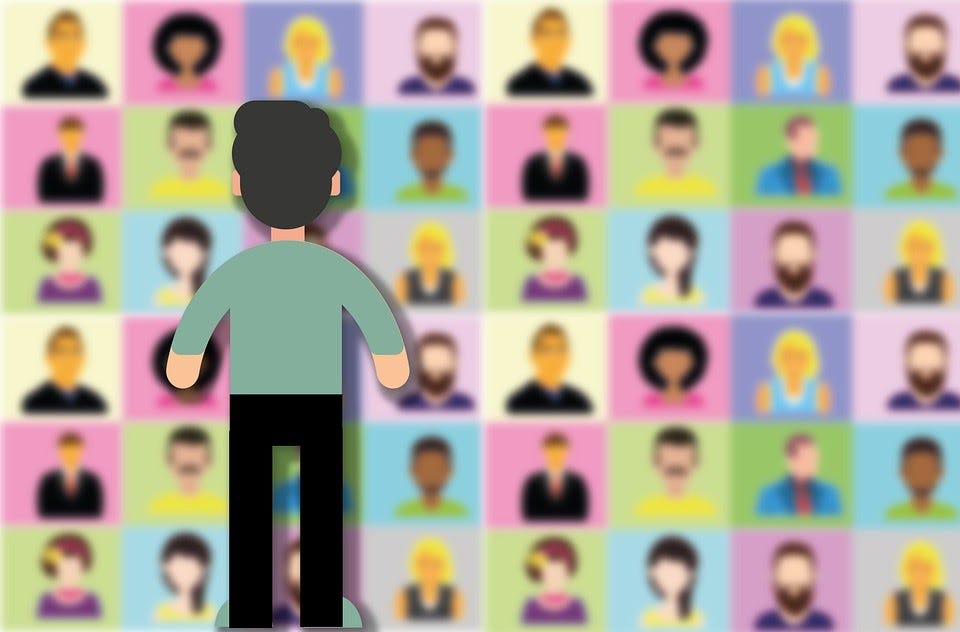 This episode will provide you with some of the best tools and practices to help anchor your virtual meetings whether you're a teacher, a manager, a technologist, or just a good worker bee. The goal is to set you up for success and to make you feel like you've mastered all of the basics and intermediate skills when it comes to being in front of a computer with a camera. So… let's dig in!
YOUR TECHNOLOGY MATTERS
The tech you own and use matters. So does the way you set it up. So let's talk about what products you should consider owning AND how best to use it. First, let's dive into the hardware you should have:
What Hardware To Purchase
I'll only be focusing on gear that's affordable, portable, easy to set up, and fits on your desktop. If you were to buy all of the products I recommend here, you'd invest a total of $225. That's it. If you're on a tight budget, I encourage you to view this gear as a reasonable investment to further your career and help you stand out from the crowd when it comes to virtual teaching, coaching, or facilitation. If cost is an issue, you can often find these products used or refurbished and in great condition. Also, consider using any professional development funds offered by your school to make the purchase.
The Camera
While the webcam on your Mac or PC might suffice for basic chats with friends and family, if you're teaching, facilitating, managing, or counseling online, consider making sure that your image is clear as day and in full high-definition video. This low-cost Logitech webcam is one of the best and cheapest options to make your image look crisp and professional. It sells currently for between $75-$125. It conveniently clips on to the top of your laptop or desktop monitor. Most importantly, it's one of the most beloved and well-reviewed webcams on the market. You could spend more money on the newer C922 - also by Logitech - but don't. The C920 is a workhorse and will suit you well.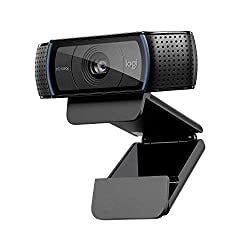 Your Camera Setup:
Whatever camera you decide to use, just ensure that you've set it up correctly. Your camera should always be at eye level and not above or below you. That prevents others from looking down at you (awkward) or looking up at you (also, awkward).
That might mean that you're putting your laptop or desktop monitor on a stack of books so that it's right at your eye-level. If that's what it takes: do it. That immediate face-level interaction will help put others on your video calls at ease on a subconscious level.
The Lighting:
Making sure that you are well-lit is essential, even with the most expensive camera system. This low-cost but super effective lighting setup comes with an adjustable tripod, which most lighting rigs do NOT include. Bonus! That means, you can place it on the desk next to you, adjust it to the right height, and then illuminate your face from the correct angle. Even better, the lights come pre-programmed with three lighting modes: white, warm yellow, and warm white. Pick a mode, then pick a brightness setting, and away you go! There are other fun gadgets that come with this setup, but you may or may not need a cellphone holder or remote control. So give those to your kids if you don't!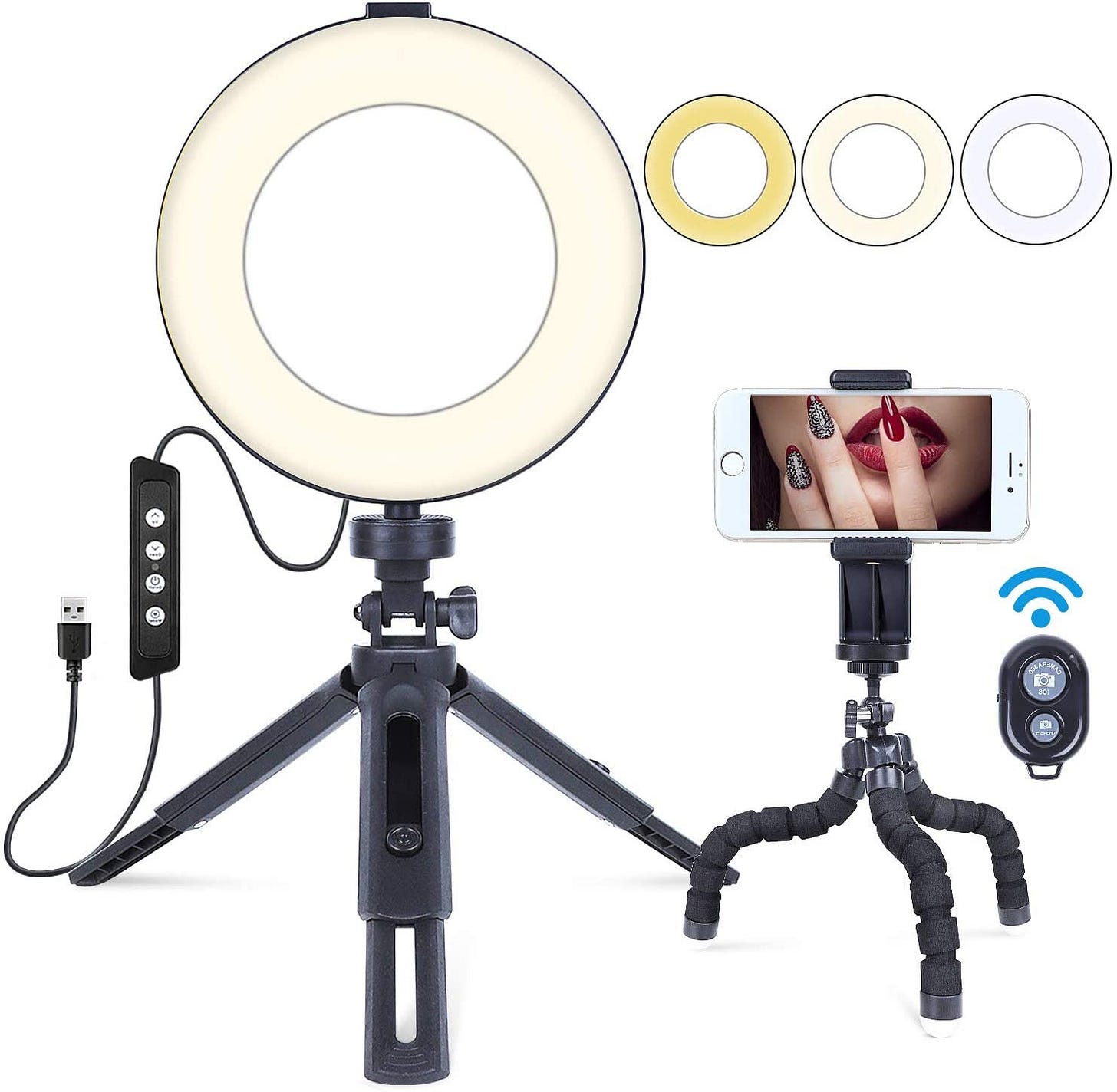 Your Lighting Setup
Light from in front, not behind: Never set up with a window or bright light directly behind you. Instead, ensure that the brightest light sources in the room are in front of you. This might mean you need to reorient your office. Do it! Why not have a makeover?!

Balance your light: The lighting rig I've recommended above allows you to dial up the brightness AND color to your choosing.

Watch your light position: just like with your camera, your lights should be at the same level as your face, not above and most definitely not below!
The Sound
Many of us use wired headphones on our computers and smartphones. Having one or more wires hanging off our heads might be fine if we're listening to music or on a traditional phone call, but if we're on video, it looks awkward and less professional.
More importantly, it prevents us from moving too far away from our computers. In my virtual classes, I almost always have my students get up out of their seats to do physical work with me, so being connected with a wire makes that impossible.
Therefore, I use a pair of expensive Apple AirPods Pro to connect me to my computer and smartphone without any messy cables. Skip the luxury tax and grab a pair of well-reviewed and (comparatively) affordable wireless earbuds like Anker's. At $100 new (or $80 used), these earbuds are easy to pair with your computer or smartphone, sound great and do NOT cost $240 like Apple's AirPods Pro.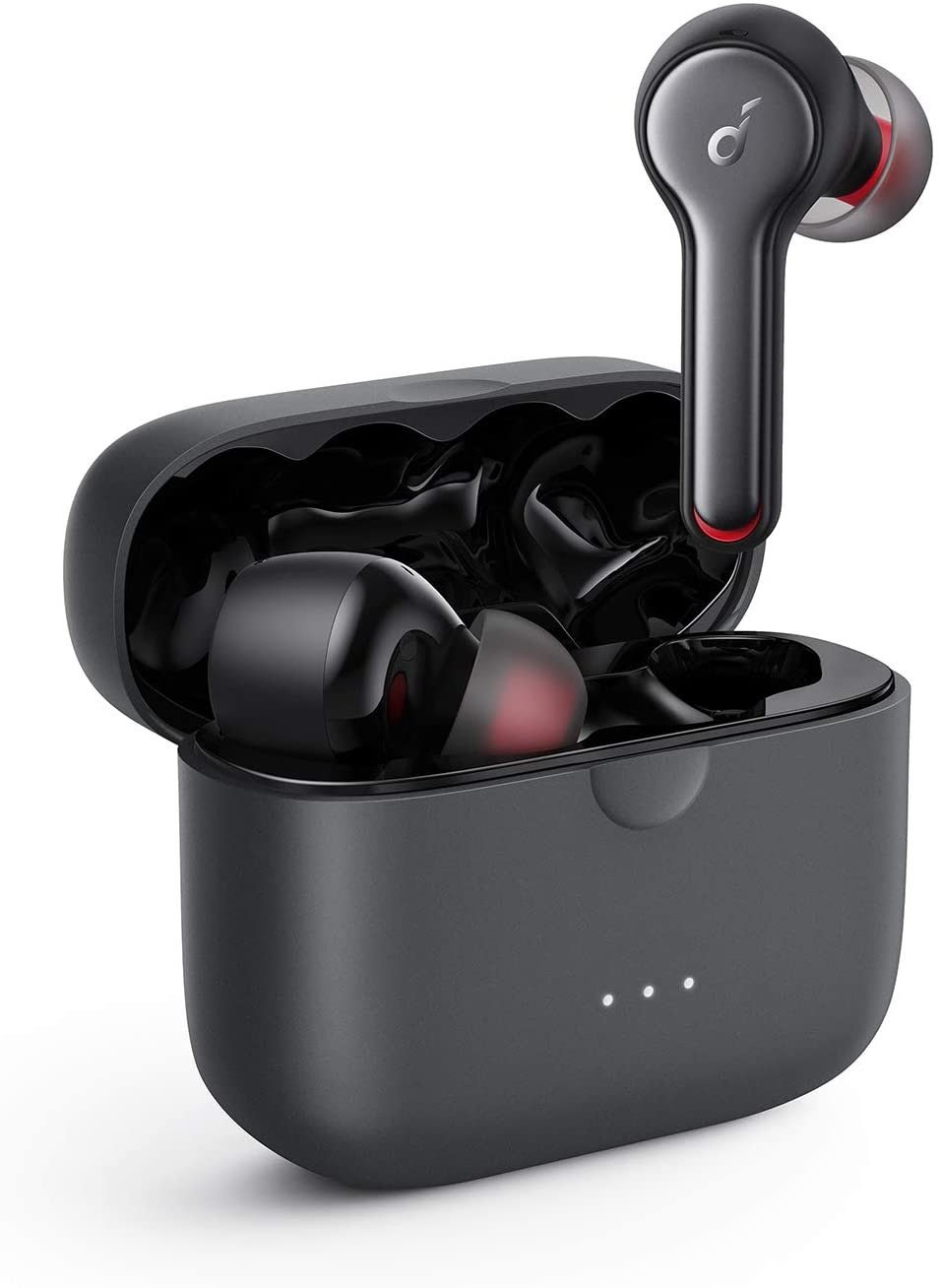 Your Sound Setup:
Pair your earbuds to your computer first, then to your phone: "pairing" is the process of connecting your Bluetooth devices to your smartphone or computer. The Anker Liberty Air 2 can be paired to two devices, which is awesome. That means you can use them to take calls on your smartphone AND use them for virtual teaching. Just pair them to your computer FIRST, please. Thank you.
What Software To Use
The Software Choice: Zoom
While Zoom isn't perfect (no software is), it's far and away the easiest and most flexible virtual classroom software to use. They've also done a very admirable job of patching their security problems and working with technology professionals to help find/fix other security holes. Google Meet, Microsoft Teams, Skype, and Facebook Rooms are all trying to copy Zoom's best features. There's a reason why Zoom got so popular so quickly. I've used Google Classroom as well, and I have to tell you: Zoom is FAR easier and FAR more flexible.
If you work for a school district that uses Google Classroom (one of the schools, where I teach, does) politely ask them if you can use Zoom to teach your classes. In my case, I was granted that permission. It's worth asking.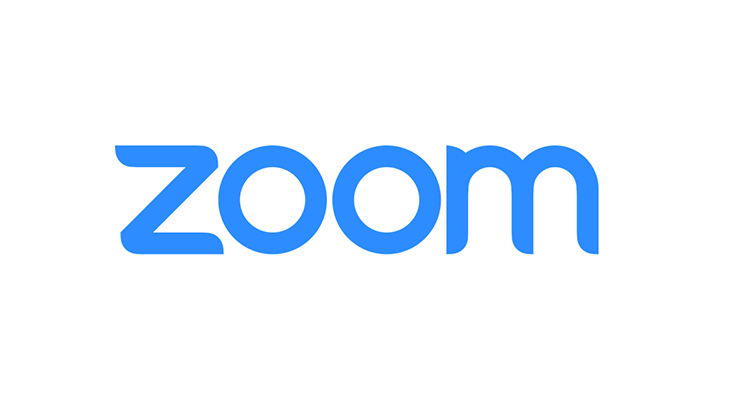 Download the latest copy here.
Note: the free version of Zoom only allows for meetings to last 40min. If your employer doesn't have Zoom and won't cover the cost of it, you can buy a yearly pass for $150. However… there are many (many) first-time user coupons you can use to shave $30 off the cost, bringing you to $120. Zoom is totally worth $10/mo if you plan on hosting online meetings on a frequent basis. Heck, most folks spend more on Starbucks each month, right?
How to Set Zoom Up Correctly
We need to set up Zoom to optimize how you look and sound when you log in. To do that, you'll need to change a few settings in the Zoom application. To get to any of these settings, launch the Zoom application, and then click the small gear wheel just under your profile picture: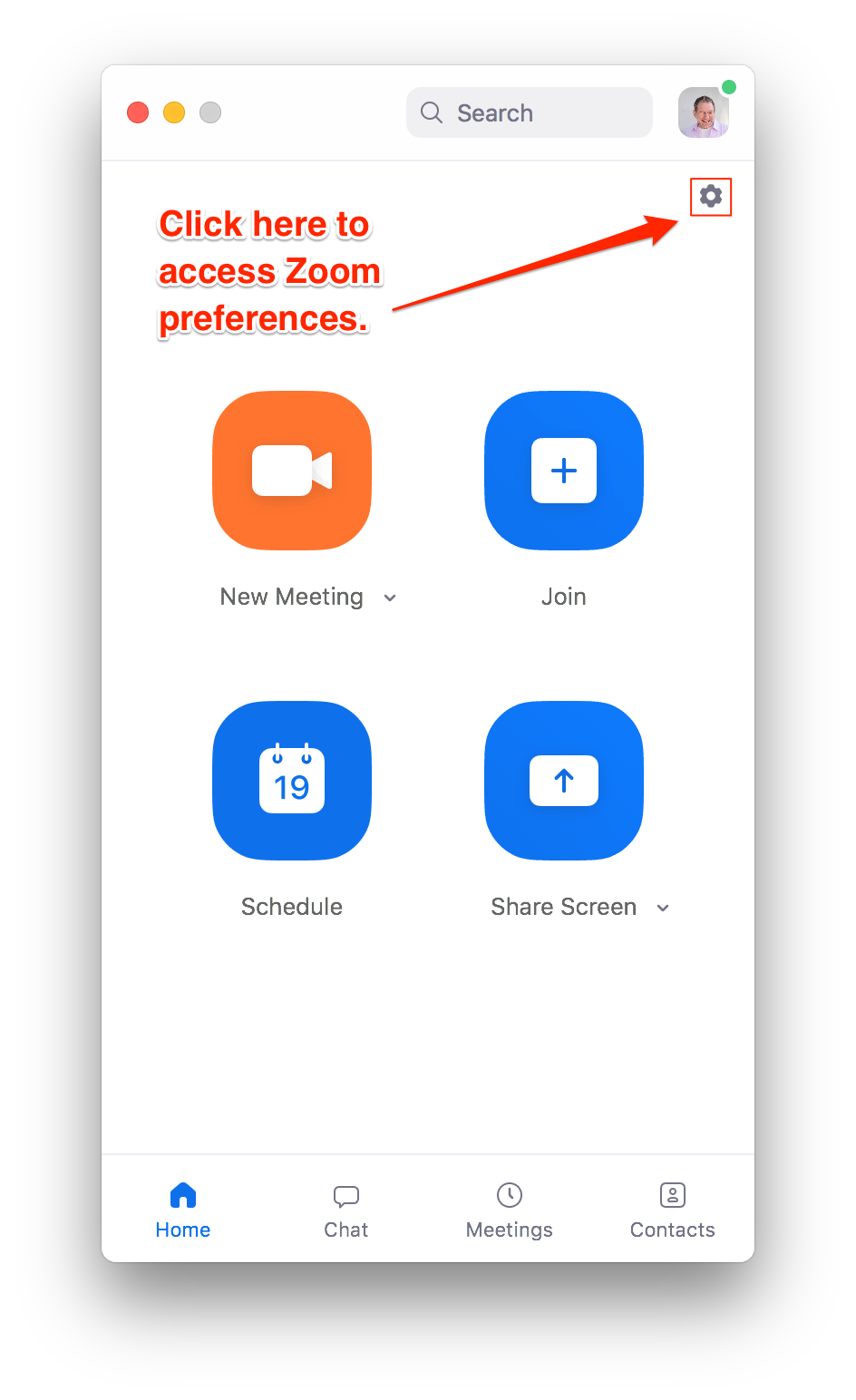 Pro-tip: if you're in a Zoom meeting and need to adjust these settings, you can always click the small arrows next to the "Mute" and "Stop Video" buttons as shown here:

Zoom's got a great link for additional info accessing preferences.
Video settings: While might need other boxes checked, please ensure that the four boxes you see in the image below are checked. Having these video settings set will allow you to look your best in high-definition video and permit you to see those students whose cameras are powered on, something we'll play with later.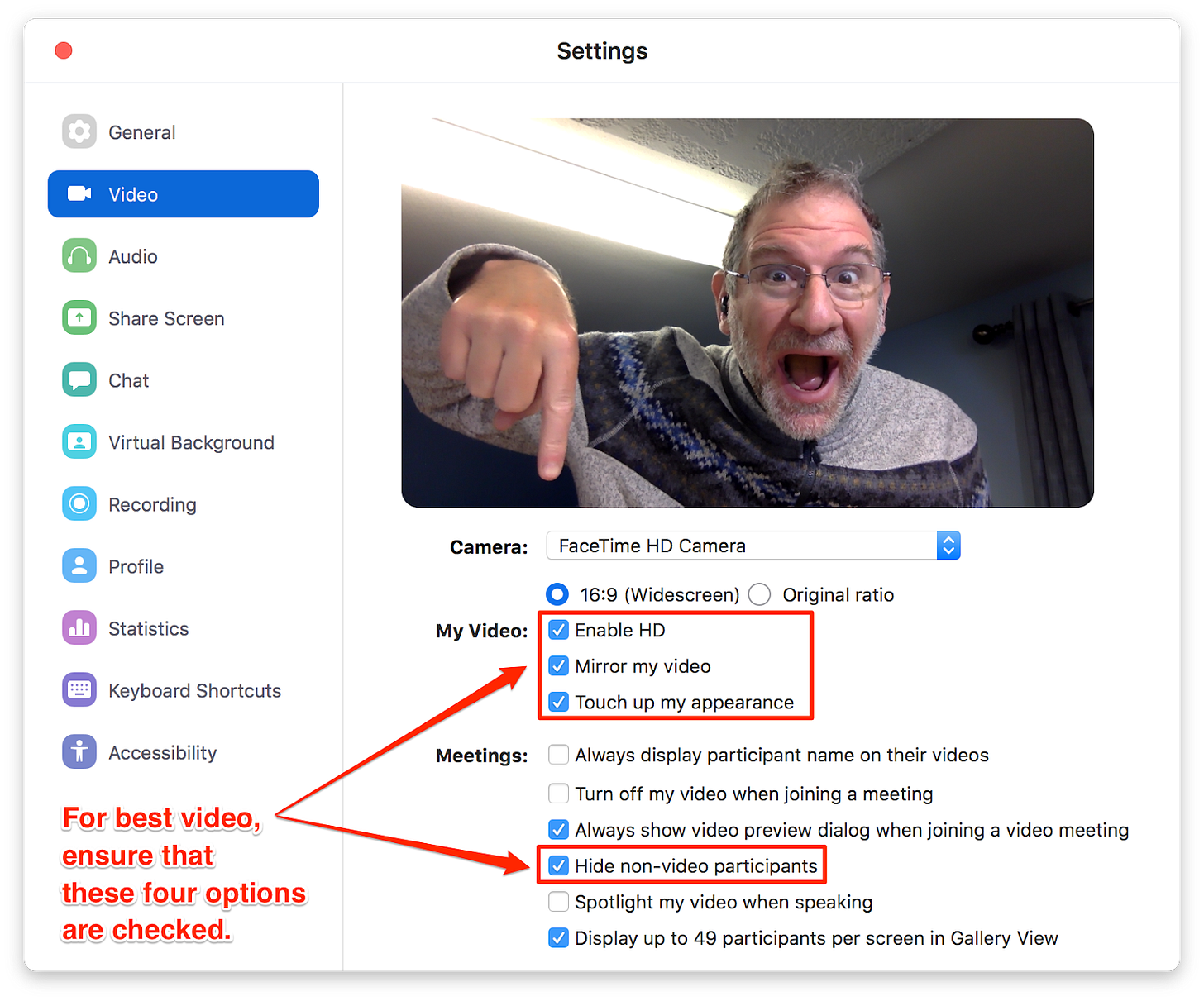 In fact, these settings are so important in my classes and workshops, that I ask everyone at the top of each class to please change these settings together.
Basic Audio Settings: Zoom's default audio settings often make people sound dull and less than optimal then they can. Fortunately, you can change this!
In the basic audio settings UNCHECK the box for "Automatically adjust microphone volume" and then slide your mic volume up to at least 75%. Great! Now we're ready to change some advanced settings.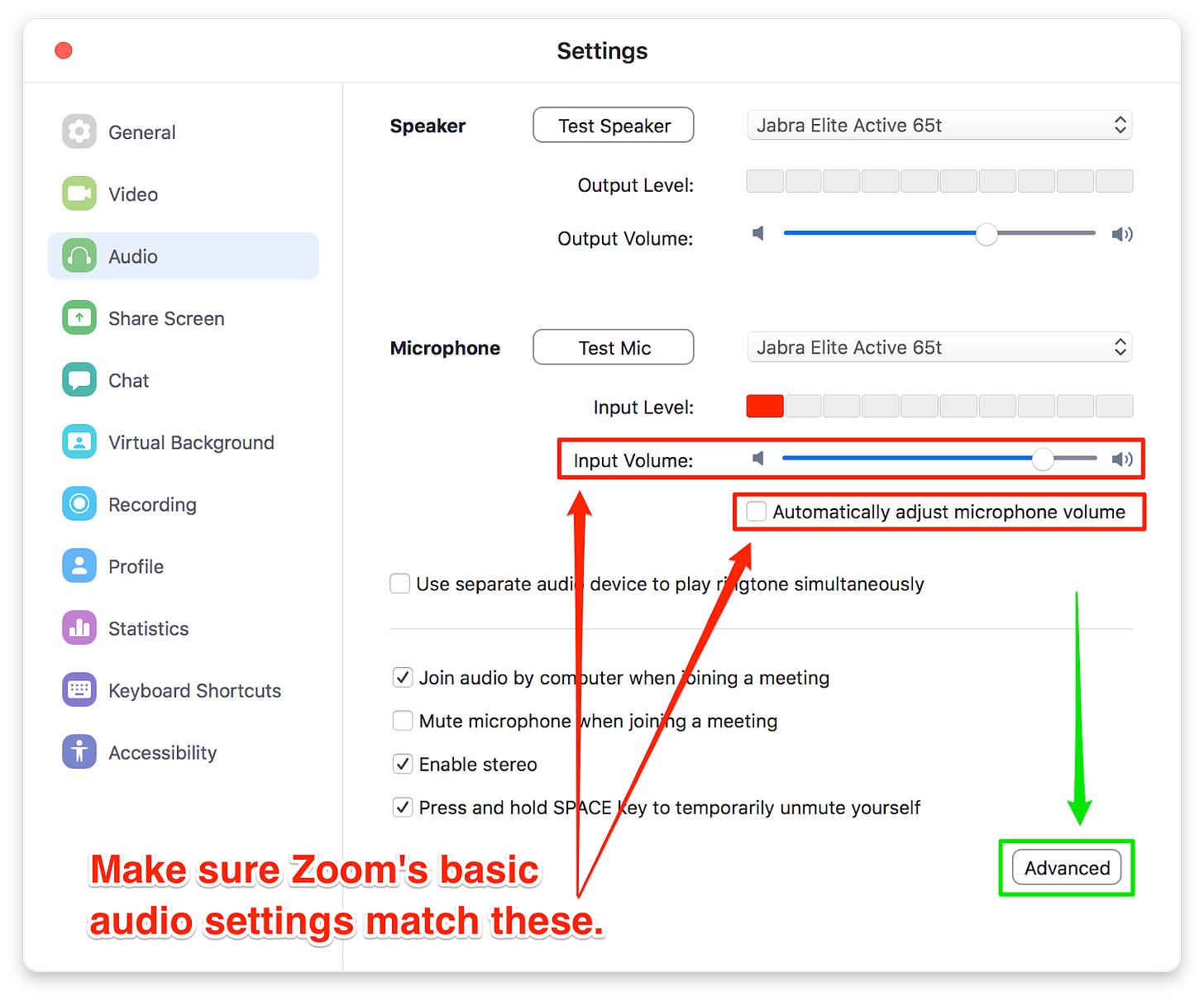 Advanced Audio Settings: From the main audio preferences window, click the "Advanced" button which I've shown in green. In Zoom's advanced audio settings, ensure that your application matches what you see to the right in this image. Essentially, we're turning OFF noise suppression and turning ON original sound.
These settings will make you sound AWESOME and clear which is exactly what you want if you're going to be teaching a class or a workshop, right? RIGHT.
IMPORTANT NOTE: the advanced audio settings you've just made make the assumption that you're in a quiet environment. If you're not - say you're running an air conditioner right next to you - then you'll probably want to re-engage the "suppress persistent background noise" option. Otherwise, people will hear your air-conditioner while you talk, something you should avoid.
Now, let's make sure everything works the way you want it...
---
Putting It All Together
The first rule of theater is to rehearse before you perform. Your virtual classroom has lights, camera, and sound. That makes you a performer and your students/participants the audience. Do everyone a favor and test EVERYTHING before they arrive in your virtual space. So log into Zoom now and let's do a "pre-flight" check:
Step 1: Check Your Appearance
Go into your own Zoom room. Check your appearance.
Are you well lit? If not, move your desk and/or lights until you are. If you can't clearly see your own face, then others can't either.

Is your face the center of attention? If not, then move other things out of the camera shot so as to not pull focus from you. In my office, I have a blank wall behind me: no bookshelves, posters, or other materials to distract.

Have you selected the correct camera? If you've purchased the fabulous Logitech C920, you need to tell Zoom to use that camera instead of your built-in webcam.
To tell Zoom to use a specific camera, click the small "up" arrow just to the right of the "Stop Video" button. A pop-up menu will appear as shown in the pic below. From that list, choose the camera you'd like to use!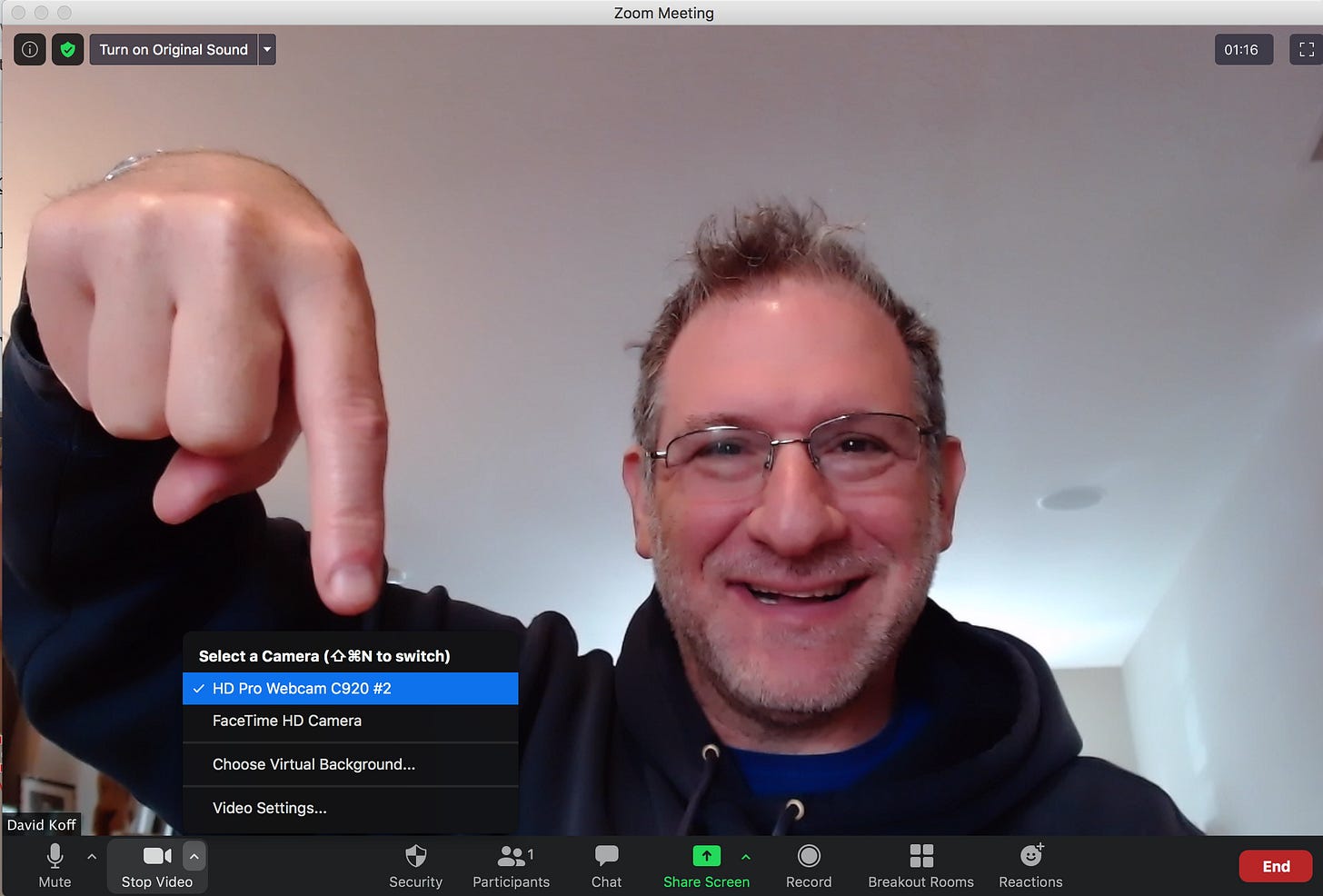 Step 2: Choose The Best Sound Possible
Once you're in your Zoom room, you'll notice a funny button in the upper left of your window. That's because I asked you to change some of your audio settings. Clicking on that button — the one I'm pointing to in the picture below — will activate a clearer, cleaner audio stream that your participants and students will hear. You'll also notice that once you click that button, it doesn't say "Original Sound Activated!". Instead, it shows you that you can click again to turn Original Sound off. Seeing that means that Original Sound is activated, so don't be confused.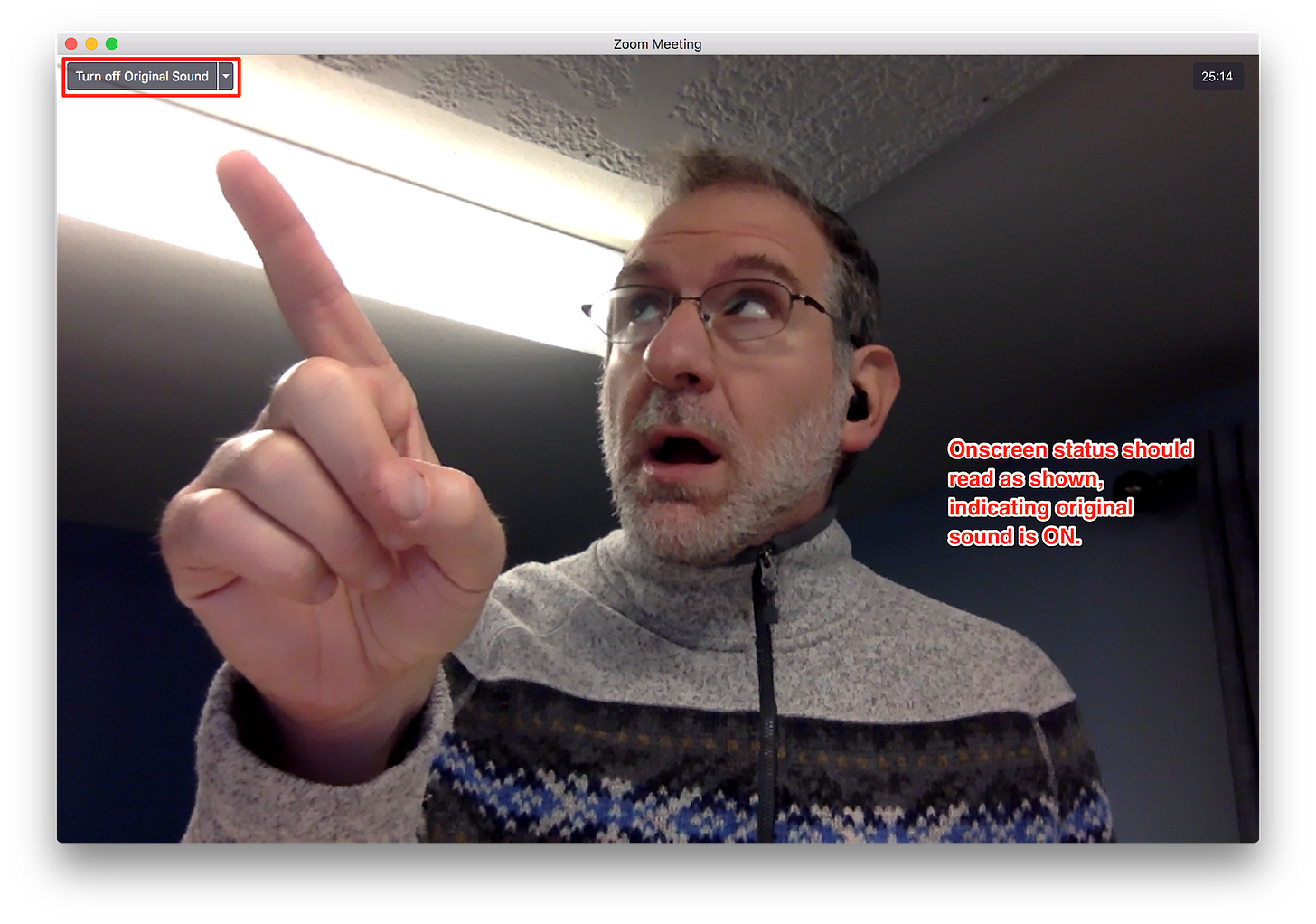 Step 3: One, Final Test
Now we're ready for a dress rehearsal. Ask a friend to join you in a Zoom meeting for no more than five minutes. Once she's joined, start talking and moving around your space as you would during any of your classes, workshops, or meetings. Ask your friend the following questions:
How do I look?

How do I sound?

Does my on-screen environment help or hinder?
Listen to your friend's feedback and make the appropriate adjustments. Ask for confirmation that the changes improve your look and sound. FanTAStic! You're now ready to host your Zoom event!
The Good News
If setting all of that up and making it work right seemed like a lot of work, well: you're probably right. The first time you do anything, it takes longer and seems harder. That's normal and part of the process.
The good news: once you've walked through this setup, doing it the next time will take a fraction of the time. And then, soon: you won't need to run the tests anymore because you'll know the settings that will work best with your current or future environment. You'll be ready with the right tools and processes for ANY online or virtual meetings.
---
And that's a wrap for today's episode, everyone. I can't beLIEVE this is my 30th episode. Wow. I'm going to celebrate by making a cup of coffee and enjoying a wee bit of Summer sunshine. Thank you again, for reading and for being a subscriber. Let me know your thoughts & questions in the comments section. All subscribers - both free and paid - can read & leave comments on this story.
As always… surf safe.
---
Click here for my guide on how to choose a privacy-focused VPN.
If you're looking to set up a VERY secure iPhone, click here.
To learn how to remove your personal data from the web, click here.
For a super cool way to NOT give your personal email address to everyone, click here.
Click here for a crash course on how to keep your devices updated.
Lastly, please know that some of the links in this story pay me a small commission if you decide to purchase a product that I've recommended. While it's not a lot of money, I need to be transparent. Every product and service I recommend are those I've personally purchased, tested, or use myself. Other recommendations may include products that I've deeply researched before making a recommendation.